Lorena Brockman is a blogger for JennsBlahBlahBlog.com and has notable know-how in blogging, health, business, and has been deemed "Greatest Auntie Ever" by many. To learn more about Lorena, visit her company's blog at JennsBlahBlahBlog.com.
There is danger in every part of life, and significantly more so on a construction job site. There are hazardous liquids, falling debris, and shards of metal. It's important to stay safe under these conditions. Simple common sense plays a big part in safety on a job site, but can't you do more?
Following are five safety tips to keep you and your workers safe onsite.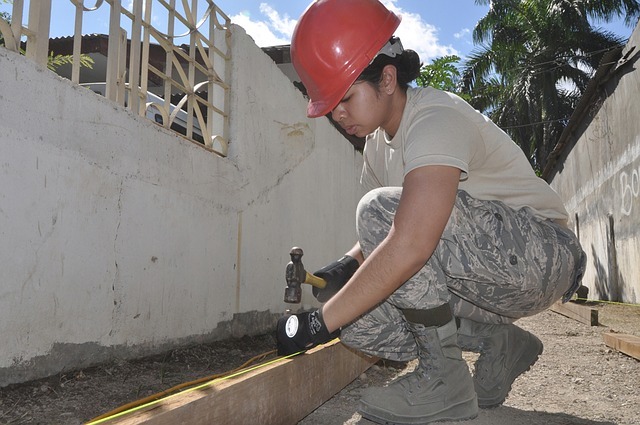 1. Personal Protective Equipment (PPE)
PPE refers to some of the most important items of a worker's uniform. They protect individuals from the many hazards on a job site. The most common PPE gear items includes:
Goggles/Face Covers – These protect eyes, face, and neck from flying shards, wood, dust, caustic liquids, chemicals, and other hazards onsite.
Safety Shoes – With the heavy equipment and sharp tools used during construction, it's important to have strong, steel-toed boots to protect feet. Also, safety shoes reduce slips and trips due to spills.
Hard Hat – Again, heavy equipment leaves workers susceptible to falling objects. Hard-hat helmet keep workers' heads safe and protected.
Ear Muffs/Plugs – Loud noises from heavy machinery can damage ear drums over time and continued exposure. Ear plugs and muffs protect a worker's hearing from being damaged by loud work areas.
Harnesses – Falls that occur onsite can lead to long-term health problems and even paralysis. Harnesses should be used when work is done above ground level.
2. Fall Protection
Many job sites have work that needs to be done higher than ground level, increasing chances of falls. It's important to follow some basic guidelines and to use safety mechanisms, including:
Aerial and elevated lifts should be used for long periods of high-level work.
Lifts should have guardrails and toe boards to prevent workers and tools from falling.
Temporary lines should be used near edges near high drops to warn of falls. Set up guidelines on roofs, raised floors, and other elevated work areas.
Keep holes and weak spots covered.
Use a harness at and above 20 feet.
3. Hazardous Chemicals
There are numerous chemicals onsite that cause injury and harm. Proper use and storage is important.
Use the Material Safety Data Sheets (MSDS)for all chemicals around the job site. Train employees on how to use the MSDS.
Keep clean-up kits available in chemical storage areas.
Train employees on spill procedures.
Store chemicals safely, securely, and properly.
4. Head Protection
Head injuries are a hazard on any job site. Proper rules need to be followed to ensure everyone's safety.
Hard hats should be worn at all times and must be in top condition. Cracked or compromised helmets need to be discarded and replaced.
Do a walk-through of the site; clear all hazards and secure any loose items overhead.
Mark off a large area around a debris drop site.
Note any electrical and falling hazards as well as above-head work with signs throughout the job site.
5. Electrical Protection
There are a number of electrical tools and wire-work on job sites. Keeping tools stored properly helps reduce the risk of electrical injury. Also:
Ensure the base power is off before any work is started on electrical wires or devices.
A lockout/tagout system should be implemented.
Replace all worn, frayed, or damaged cords to tools, devices, or other items.
Use extension cords for tools to avoid damaging outlets. Be sure to use extension cords that can withstand rough surfaces.
Check tools regularly and discard any equipment that is faulty or damaged.
Construction work is tough, and there are a large number of risks on a site. Taking the proper precautions, offering training and safety tools, and keeping a tidy work space can reduce work-related injury.
Thinking of further educating yourself to enhance your building career? Browse courses by state and see what's available close to you.