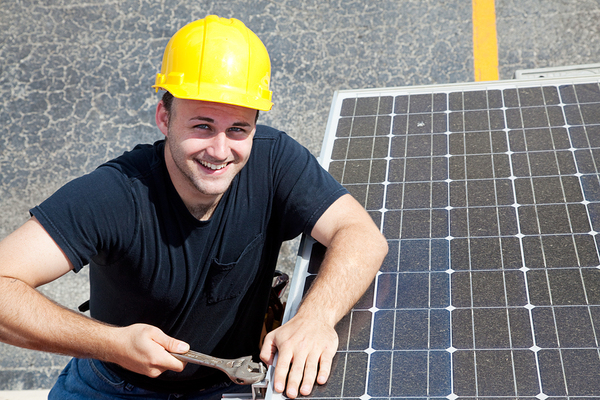 Green energy is turning into a major player in both industry and finance in Canada to combat global warming and create a more sustainable future. According to a study by the Columbia Institute, in order to reach net-zero by the year 2050, Canada will have to create almost 20 million jobs in the construction industry.
As methods in construction change in the future, it is important to keep up with the latest technologies and information. An online contractor school can help by offering courses that meet a contractor's goals and ensure that required continuing education courses can be handled easily and conveniently
Increasing Green Power
The Columbia Institute estimates that the following jobs would be created by switching to green power for the future and the estimate is conservative:
A 10-percent increase in solar power would create 438,350 jobs in construction by 2050.
Jobs in wind power would increase 25 percent to 209,360 construction jobs that are full-time.
Geothermal power would increase by 4 percent to create 30,300 jobs.
Construction of new transmission lines would create 200,000 jobs in the construction industry.
Jobs in wave and tidal power would increase by 5 percent to 109,770 construction jobs.
Hydroelectric power jobs would grow by 40 percent to 158,915 person-years of employment in the construction industry.
While the demand for nuclear power would diminish in Canada, it would still require maintenance, creating an increase of 5 percent in jobs to 30,360 by 2050.
What Is Driving This Surge Toward the Transformation Into Green Energy?
Public policy about climate change provides the impetus to change to renewable technologies in Canada. For example, the Canadian government announced that emissions needed to be lowered to levels 80 percent below those in 2005 by 2050 to meet the agreement reached by the Paris climate accord. Out of the nations around the world, 197 signed the agreement, which commits each country to slashing greenhouse emissions that contribute to raising temperatures around the world. In addition to the Paris accord, green technology is becoming less expensive and offers home and business owners the ability to lower energy costs.
Direct and Indirect Jobs Created by the Green Movement
The Journal of Commerce estimates that retrofitting of buildings and other structures along with eco-friendly construction in new buildings can create nearly 2 million jobs in the construction industry in Canada. The construction industry would also benefit from constructing energy systems in smaller districts in half of the metropolitan areas in Canada.
What Labor Force Will Benefit From Canada's Green Movement?
In Canada, there are five categories of occupations that will benefit from the country's move to sustainability. This includes those in the construction trades, electrical, equipment operations, maintenance and industrial sectors. Material handlers, servicers, and repairers will also benefit, along with those in the field of heavy equipment operation and transport. Construction laborers, helpers, and other related occupations will also benefit from the change to green technology.
Renewable Energy Growth in America
Even though the United States is not signed onto the Paris accord, Forbes reported recently that green energy is also increasing at a fast clip in America, aided by lower prices for natural gas. The economic initiative in the construction industry will be through consumers who want energy saving features in new homes and retrofits on older homes to become more efficient in their use of power and save money.
Continuing Education Through PDH Contractor Academy
There are many opportunities around the corner for construction contractors. The way to take advantage of those opportunities is through continuing education through a preapproved contractor school. PDH Contractor Academy offers everything a contractor needs to fulfill continuing education requirements for relicensing and keeps a contractor up-to-date. Our courses are offered for multiple states at an attractive price and conveniently offered online and/or by correspondence. Browse courses by state to learn more or to sign up for a course.