Knowing what areas are commonly cited for safety violations by the Occupational Safety and Health Administration lets building contractors focus on improvements and avoid penalties. Each year, OSHA publishes the top violations cited, and the latest runs from October 2016 to September 2017. Just as complying with OSHA requirements is important to avoid penalties and construction delays, finding a contractor school to complete continuing education requirements can help avoid last-minute hassles for relicensing.
Fall Protection
The number one violation cited by OSHA is for fall protection in the construction industry. The general requirements under 1926.501 require that employers use fall protection systems with the structural integrity and strength needed to provide safe walking surfaces. While workers should become familiar with potential hazards that could result in a fall, employers have the responsibility to provide that protection, including excavations, skylights and elevator shafts.
General Requirements for Scaffolding
Section 1926.451 addresses standards for scaffolding, load capacity, and required dimensions. Requirements are also outlined for ties, braces and guys and suspension scaffolds. Since this is the second most commonly cited safety area, it might be a good idea to review this section. Workers should utilize hard hats, non-skid boots, and lanyards for tolls, while employers should ensure that a competent individual installs scaffolding, and it should be inspected for safety.
Ladders
Load supports, spacing for cleats, rungs, etc., clearances and safety devices are the focus of the regulations covered by 1926.1053. The requirements comprise a long list, so it isn't surprising that violations in the usage of ladders are common. Workers should remember to always have the three points of contact necessary to provide extra protection. Employers have the responsibility to ensure that ladders are safe by having them inspected daily and have ladders that are not up to standards removed or tagged.
Training Requirements in Fall Protection
Section 1926.503 covers the requirement for training employees in fall protection, which will minimize hazards faced by workers. Training includes education on guardrails, safety monitoring, systems for safety nets and warning lines and other information. Once successfully completed, the employer must provide the employee with a certificate of completion. Employers must ensure that training is conducted by a competent person and that all employees receive that training.
Personal Protection and Equipment for Life Saving
Face protection is required by OSHA against items such as chemicals, molten metal, chemical gases and vapors and other substances. Employers are required to supply face protection devices and ensure that employees use them under 1926.102 and standards are listed that meet OSHA requirements. Employees should perform an inspection daily to ensure that their face protection gear is in good condition. If an employee requires prescription lenses in their facewear, it is the responsibility of the employer to provide it.
Head Protection
Protective gear for the head must meet the requirements of the American National Standards Institute under OSHA section 1926.100. Head protective gear must ensure employee protection against high-voltage burns and electrical shock. In addition, the employer must prove that headgear not approved by the ANSI meets the same standards. Employees should wear head protection at all times while on the job site.
Hazardous and Toxic Substances
Section 1910.1200 relates to classification of chemical hazards on the jobsite. At a construction site, hazardous materials must be clearly labeled and procedures in place in the event of exposure. Workers should be familiarized with Material Safety Data Sheets, wear proper protective gear when working around hazardous and toxic substances and perform cleanup of spills right away. Employers should maintain a sheet listing hazardous substances, which are appropriately labeled and include hazard warnings.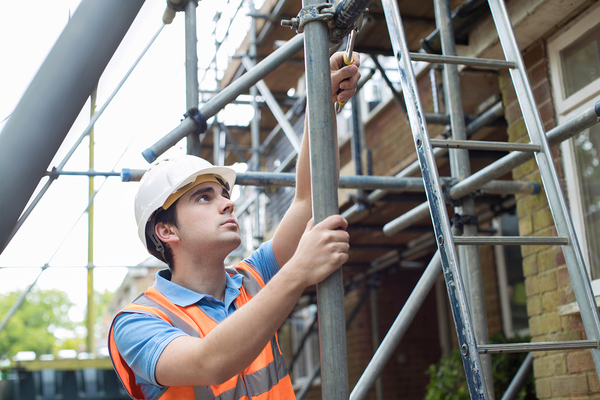 Adhering to OSHA regulations can avoid safety violations.
Aerial Lifts
Hazards of aerial lifts can include falls, structural failure, tip-overs, dangers from objects overhead, electrical shocks and danger from falling objects, which is addressed by 1926.453. Authorization and training is necessary for those workers who operate aerial lifts. Inspections should be conducted to ensure safe operation, and if any parts are missing or damaged, the lift should not be used. Employers are responsible for training and maintaining aerial lifts in good condition. In addition to ensuring protection against accidents, power lines located near an aerial lift must be de-energized when workers are nearby or using the lift.
General Provisions for Worker Health and Safety in Construction
This section of OSHA regulations, 1926.20, deals with working conditions that may be dangerous or hazardous to the employee's safety or health. This includes the employer's responsibilities for the protection of employees against accidents and ensuring that machinery in use is safe. It also covers training of employees and the necessity for equipment for personal protection. Workers should understand that they cannot operate machinery for which they haven't been trained. Employers should appoint a competent person to inspect materials, tools, and machinery and remove or tag those that are not in compliance.
Practices for Fall Protection
The last section of OSHA regulations most commonly cited, 1926.502, has to do with requirements for guardrails, covers over openings and provisions for establishing zones with controlled access. The employer is responsible for identifying fall hazards and address them, while workers must be aware of fall hazards on a job site, and take appropriate measures to stay safe.
Finding a Convenient, Preapproved Contractor School
PDH Contractor Academy offers all a contractor needs to complete continuing education requirements for relicensing and in handy formats designed to be convenient and cost-effective. We offer continuing education courses that fulfill the state licensing board's requirement for a number of different states. All courses are either online or by correspondence, which makes it easy to study whenever and wherever you like. Once completed, we notify the appropriate board where permitted and send a copy of the completion certificate for the contractor's files. It's fast, easy and offers distance learning at a reasonable price. Browse courses by state, and learn more by clicking the link.