A construction work site can be a dangerous place if all of the applicable safety rules are not followed. Along with the federal safety rules set by OSHA, each construction company has its own set of safety policies that must be followed on every job. Every construction worker and field supervisor should take all of the steps necessary to maintain safety, and there are plenty of tips that can be followed to keep every work site free from accidents.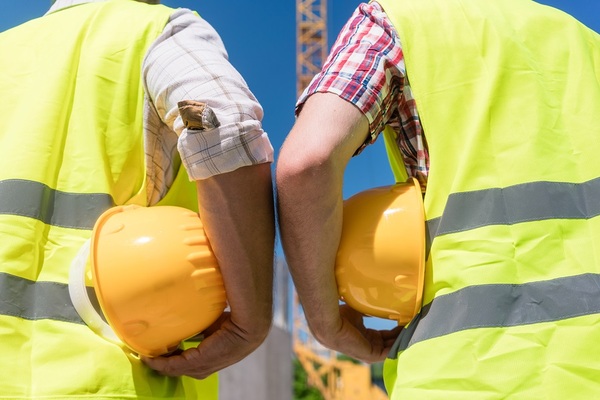 Take Safety Seriously
It can be easy for workers to overlook safety when trying to speed up a part of a project, or when they are trying to work that last hour of the day. But safety should be a concern every minute that a work site is in operation, and there should never be a time when safety is forgotten.  All it takes is one lapse in following the safety rules for someone to get seriously injured.
Remember To Check With The Utilities
It is not uncommon for workers on a job site to start digging into the ground without any thought to consequences. Every project should start with a consultation with the local utility companies, and the utility companies should be called in to evaluate any changes in the job plan. Not only could a construction company knock out power for an entire neighborhood if they dig without consulting the utility first, but there could also be serious injuries and property damage as well.
Keep Training Updated
Safety training should be mandatory for every worker before a job starts, and there should be mandatory safety training whenever a safety rule is updated, added, or changed in any way. Every job site should have the OSHA safety rules posted where all of the workers can see, and there should be regular safety inspections that will help to determine on which safety topics the workers need the most training before the job can continue.
Keep Your Job Site Clean
A job site with equipment placed in random places and machinery that is not parked in a proper staging area is a disaster waiting to happen. When a piece of equipment is not being used, it needs to be put back where it belongs. When a part of a job is complete, scrap and excess materials need to be removed as soon as possible to prevent tripping hazards. A clean job site is one where accidents are least likely to happen, and every worker should know their responsibility when it comes to keeping a job site clean.
Ongoing construction education is a great way to help improve the safety habits of any construction company. Get all of the educational materials you need to learn how to keep your job site safe by starting a course with us today!