Pouring concrete in the cold weather can be back-breaking work. If it is snowing or raining while you are pouring, then it becomes miserable back-breaking work. If you do decide that you must pour in the cold weather, then you need to understand the things that can go wrong and how they can be fixed. It takes a real professional to successfully pour concrete in cold weather, and it also takes a strong attention to detail.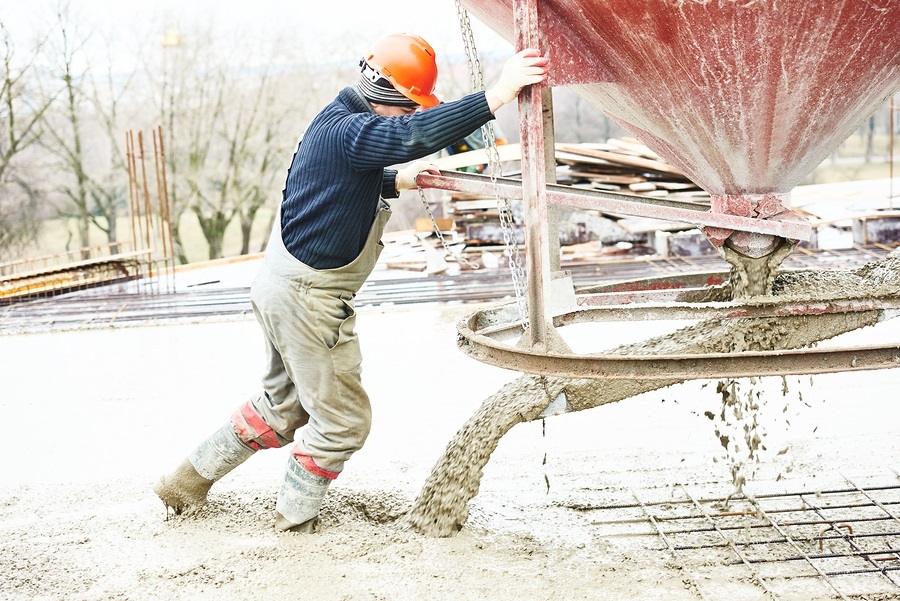 Plan Every Step
From building your forms to prepping the ground, you need to plan your cold weather concrete pour completely before you do it. You should never try to compensate for problems as you go along. Once you lift the barrier on the concrete chute and that concrete starts rolling down the distribution tray, you must be ready and have it right or else it could cost you thousands of dollars to fix the mistakes.
Make Sure The Ground Is Warm And As Dry As Possible
If the ground is cold and wet underneath your concrete, then you will open up the possibility of cracks after the concrete has settled. Prepare your site by doing the necessary work on the bare ground to make sure it is ready to handle the concrete without creating cold pockets that will later create large cracks.
Never Pour On Snow
Snow, as everyone knows, is water. If you pour cold concrete on snow, then you are adding more water to the mixture and the concrete will never settle right. Be sure to remove all snow from the area where you will be pouring to give your concrete a chance to settle into a strong mixture.
Leave The Wall Forms Up
When you are pouring concrete walls in a basement in the cold, you must follow all of the same rules you would follow with pouring a slab. Along with following the slab rules, you must also give the walls plenty of time to cure before you move on to the rest of the structure. While many cold concrete manufacturers indicate that it is acceptable to remove wall forms after three days of setting, you should give all foundation walls five full days to cure before you remove the forms.
Know Your Cold Thresholds
If the daily air temperature is 40 degrees Fahrenheit or less in the area where you are working, then you must use cold weather concrete pouring techniques. If the weather never gets past 50 degrees Fahrenheit for 12 consecutive hours on any day when you are working, then you must use cold concrete pouring rules. Never ignore these thresholds, because the final result could be disastrous. Always use cold concrete pouring guidelines when the weather demands it.
When it comes to learning about cold concrete pouring, you can get the information you need from PDH Contractors. You can go to our website and browse courses by state to find the course that applies to where you work, and find out the best ways to get good results when you pour concrete in the cold weather.